I was going through my journal – the one that is scattered all over my computers. When the feeling hits I write and sometimes I do not when I should. Anyway I digress – I am trying to pull all the entries into one place. Thank goodness I put the dates on all of them. These entries bring back a lot of emotions I thought I would share one with you…
January 25, 2011
I remember when I moved back from Houston – I was sitting in my mom's front room with my Grandma and Mom. The feeling I had was just amazing warmth and love. It was a feeling I could not describe but I though to myself take this in, how wonderful the feeling of being home.
Now that cushion is gone – the people that loved me the most in the world unconditionally have passed into another life. That is why I feel lost – and it is so much colder here then before.
I don't have the wisdom of my dad's words, the adoring eyes of my Grandma or the loving arms of my mom. If I could even just feel the essence of their lives  – I would be the happiest woman in the world.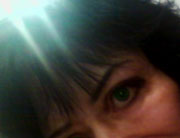 I don't know why I cannot feel them – perhaps the pain is too great for them to really come through. OR perhaps I am just not listening in the quiet times for their whispers…
I am trying so hard to live my life and find my new center. Wobbly and off balance it seems so hard. It is like a new born – that comes into the world and has to learn how to navigate this strange new place. I now have to create a different life – I was dragged kicking and screaming but the reality is stark – I have no choice….
My dad wanted me to be buried with him in St. Johns, Arizona  – he expressed this desire before he died. I don't know where I will be buried, I am thinking I should  be cremated and my ashes sprinkled on all of my loved ones graves – showing solidarity and  the love I hold for each and everyone of them…