Getting caught up in life's little problems can be stressful. Often we all forget the blessings we are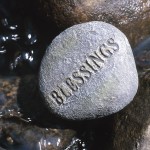 given every single day.
Living life to the fullest is something I need to do. Time stands still for no one.
Life is a rich tapestry – and each day brings things that we all should appreciate.  With so much negativity in the world, we just need to be joyous for the simple, pure pleasures we all can find in day to day experiences.
Just remembering this one simple thing is all we need to do to find happiness.