Well after all these years of being asked, "has he fallen" and being able to say "no" it has now come to pass.
I don't know how he had fallen, but it was next to impossible to get him up – it is like he doesn't know how to use his own body to get up. truly strange – he just doesn't know what I am saying, and it is frustrating especially when I am trying to help him up – but he wants me to pick him up.
My mom being a paraplegic would occasionally fall out of bed because she missed the wheel chair as she was transferring. I would have to pick her up because she had no use of her legs, but still she would help with her arms.  My husband couldn't figure out what to do when I was instructing him. He kept asking me to call the police. NO – I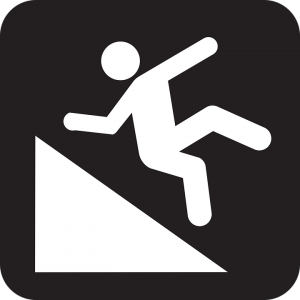 will call your brother before I call the police was my response.
I ended up dragging him (I have hard wood floors thank goodness) from the living room to the bedroom. After what seemed an eternity I got behind him to lift him up under his arms, and he was able to understand to push up with his feet. Success! I got him back in bed around 6:30 in the morning.
Scenario: We went to bed a later than usual, so I was exhausted.  About 2 in the morning, he was up getting dressed wanting to leave. As usual, I was trying to convince him he was home please lay down, but it went on and on. By 4:30 in the morning, I was exhausted and had to work the next day, so I laid down and fell asleep – all keys had been put where he couldn't find them.
I was awakened out of a deep sleep with him saying Sarah help me, help me. I bolted out of bed to find him in the doorway of our downstairs (very steep) door wide open; he was laying there with his slippers on the top stair. It could have been so much worse if he fell  down the basement. Then I noticed he had my keys lying by his feet "OMG" how did he get those!
Note to Self: I must now hide the keys in a better spot – all I could think last night was about the commercial "help I have fallen and can't get up" I have a strange mind…
P.S. I just found out he was coming up the stairs when he fell at the top step whew scary.