I love Christmas – one of my biggest wishes is that I would be able to buy Christmas gifts for everyone and not have a budget.
When I was younger even though we were poor by most standards, I loved everything I received  for Christmas. Like most kids, my grandparent gave us socks and underwear every year. One year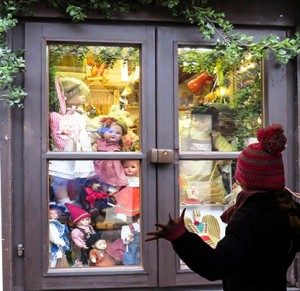 I went shopping with my Grandma and she was trying coats on me – I was about 9. I love the coat and thought she was shopping for me. When she found the one that fit me, and I loved she told me "I am buying this for Stephanie for Christmas" (she is my cousin who is the same age as I am). My heart was broken – I wanted to cry but didn't…
As you can guess come Christmas morning – there was the coat under the tree…
My favorite Christmas(s) were those when my kids were little – being able to see the excitement as they sat on Santa's knee. Getting up so early – because they just couldn't sleep, I miss those times.
The last two years I have not had the Christmas spirit, and we have not put up a tree like we had all the other years. We are flying out of town on Christmas Eve so that is a good excuse for this year.
I went shopping this morning and bought some gift and lo and behold I was feeling a glimmer of my old self again, happy and excited.
I want to be able to be happy and joyous, but sadly I don't think that will happen for a long time. My life as I knew it is rapidly changing it is so heart breaking; I am trying to find as much joy as I can each day God willing.