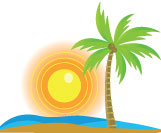 Christmas in Tampa I resisted at first but then decided to go. My husband needed the time with his family.
Our vacation in Tampa was amazing – we went over the Christmas Holiday. My husband did really well until the day we came home. That is another story…
My brother-in-law really treated us to luxury – massages, gourmet meals, and for my husband's birthday (belated) a chartered party boat for a sunset cruise. Dancing, singing beautiful 80 degree weather for 7 day we did live the life.
Just what we needed then the last day –reality hit. To be continued…